Plant production: toll manufacturing
Your partner for the manufacture of your extracts.
EXTRACTIS PRODUCTION manufactures plant extracts as a subcontractor for the cosmetic, food supplement and food sectors.
This activity is based on an extraction and spray-drying workshop whose capacities are adjustable in order to meet needs ranging from one kilogram to several tons.
The production process, owned by the customer, can be the result of a partnership with EXTRACTIS INNOVATION or in direct response to a processing need. Extracts production services are subject to an analytical support and are framed by numerous certifications (ISO 9001,…).
Do not hesitate to contact our team for your needs in plant production.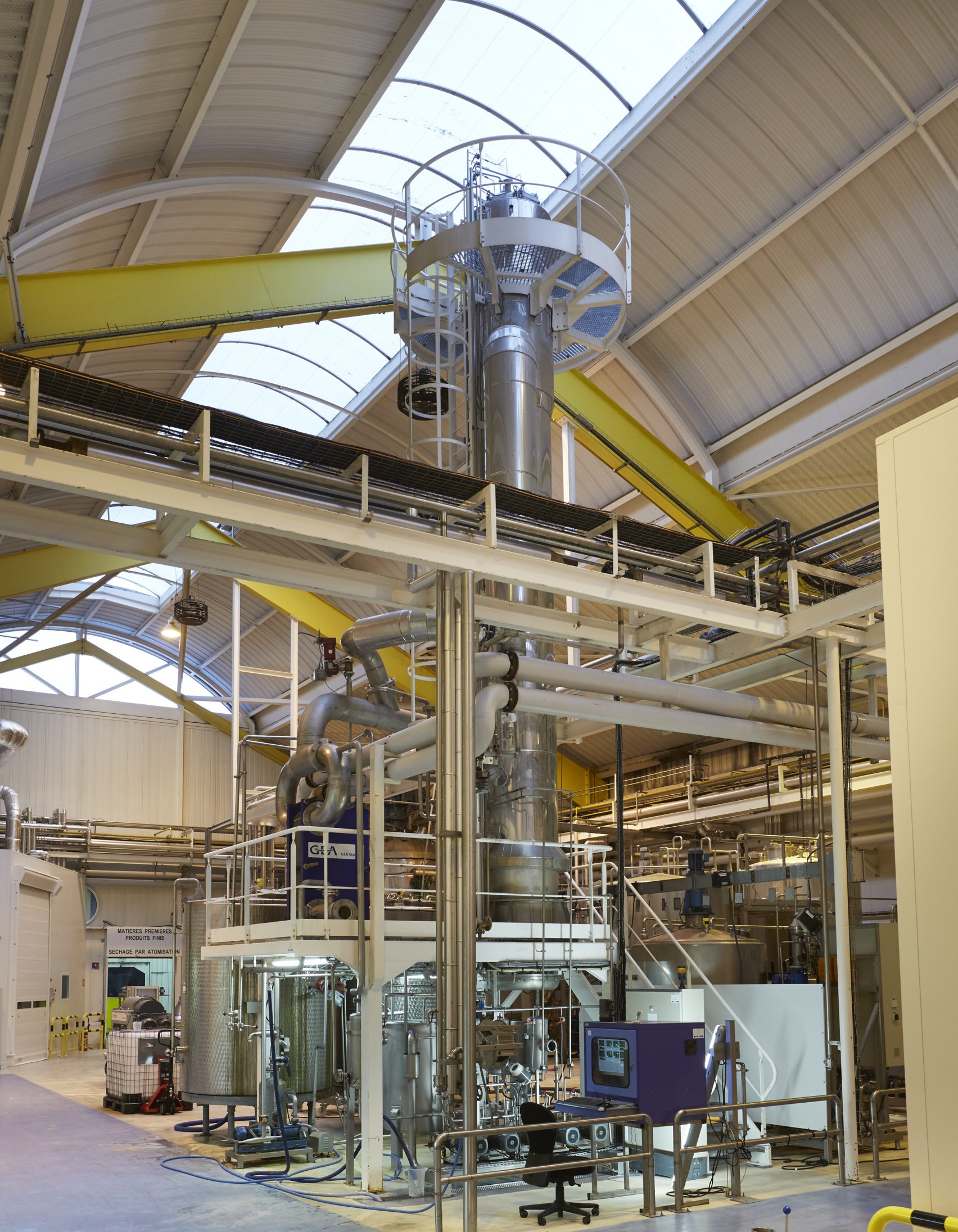 Subcontracted plant production
Titrated plant extracts (aqueous / solvent extractions)
Dry and liquid forms, macerates…
Analytical control and batch release
Flexibility / Reactivity / Productivity
Permanent 2 x 8 operation
Batch size: 2 tons of raw materials processed per batch
Traceability control
  Analytical controls (chromatography, HPIC, HPLC, GC, spectrophotometer, rheometer, viscometer…)
Batch release > conformity (MS, bacteriology, purity, physico-chemical characteristics…)
Certifications / Standards


Plant production : Equipment list
Reception & Preparation of the raw material
–
Wet Grinder Urshell Comitrol 1700
Fryma MK pan grinder
Electra BC hammers grinder
Retsch SM300 cutting mill
Silverson FX
Silverson Flash blend FLB20
Pretreatment
–
ULTRASONIC SYSTEM : 80-200 L/h
HIGH PRESSURE HOMOGENIZER : 80 kg/h, 1000 bar
Extraction & Separation
–
Vessels and tanks from a few mL to 15m3 with different specifications (materials, temperature, ATEX, agitation, etc.)
Liquid / Solid Separation
–
Lemitec MD 80
Z4D4 Flottweg Decanter
Z3E Flottweg Decanter
Z23-4/401 Flottweg flameproof Decanter
Westfalia SC35 Clarifier (2 phases)
Westfalia SaOH205 (3 phases)
Rousselet RC60 Basket Centrifuge
Rousselet RC50 Basket (flameproof)
Orion 40 Platefilters : 4 & 8 m²
Purification up to Drying
–
MEMBRANES :
Microfiltration, ultrafiltration, nanofiltration and reverse osmosis from 28 cm² to 33 m² with organic and mineral membranes
RESINS :
4 lab scale columns (working volume 300 ml), broad range of resins
4 pilot scale columns (working volume 20 L), flameproof rated
CONVENTIONAL AND BIPOLAR ELECTRODIALYSIS:
Lab scale skid EUR2B (cell surface 0.14 m²)
Pilot skid EUR6B (cell surface 2.24 m²)
EVAPORATION:
Rotavap R220 Pro 1-10 L/h
Evaporator 25 L
Falling film evaporator 1000 L/h
Falling film evaporator (flameproof rated) 300 L/h on ethanol
500 L crystallizer
PASTEURIZATION : Pasteurizer ACTINI
DRYING :
1 Buchi L-200 freeze dryer, 6kg/24h
1 pilot spray dryer (single effect) bi-fluid nozzle, evaporative capacity 2-5 L/h of water
1 semi-industrial spray dryer (single effect) bi-fluid nozzle, evaporative capacity 30-40 L/h of water
1 industrial spray dryer (single effect or multiple effects (granulated powder)): bi-fluid nozzle or high pressure nozzle (500 bar), evaporative capacity 100 L/h of water, air treatment (sterilization, dehumidification upstream)
CONDITIONING : A grey room and a clean room of class Iso 8
Additional equipment
–
KILOLAB: Double jacket glass vessels 5/50 L, 25 L filter, 50 L decanter & 25 L washing column; flame proof rated room; operating temperature from -40°C to 180°C
Certifications
–
ISO 9001 V 2015
ECOCERT
Kosher Orthodox Union
Approach HACCP
Approval FDA
Authorised warehouse-keeper
Analytical Support
–
CHROMATOGRAPHY :
GC-FID
HPLC (UV, diode array, refractometry)
HPIC (conductimetry, amperometry)
Karl Fisher, Kjeldahl, UV-visible spectrophotometer
Optical microscopy, laser particle size analyzer
Physico-chemical characterizations:
Viscosity measurements (Brookfield, RVA), Color measurements, Turbidity
EXTRACTIS
33 avenue Paul Claudel
80480 Dury - France
Tel. : (+33) 03 22 33 75 00
Fax : (+33) 03 22 33 75 01
2 tools to inform you:


Our newsletter

: every 2 months, Extractis publishes a newsletter to inform you about news specific to Extractis, its members and its network (events, offers, news, etc.)


Our Extracts watch letter

: every month, Extractis publishes a technology watch letter that lists sector news, news in extraction technologies and market information for certain extracted products