Europe supports our activities.
These projects are co-financed by the European Union through the European Regional Development Fund (ERDF) under the Regional Operational Programme.

Europe supports our activities, in particular through co-financing of specific activities and research and development under the H2020 programme (European cooperation projects).
Resourcing and strategies
development strategies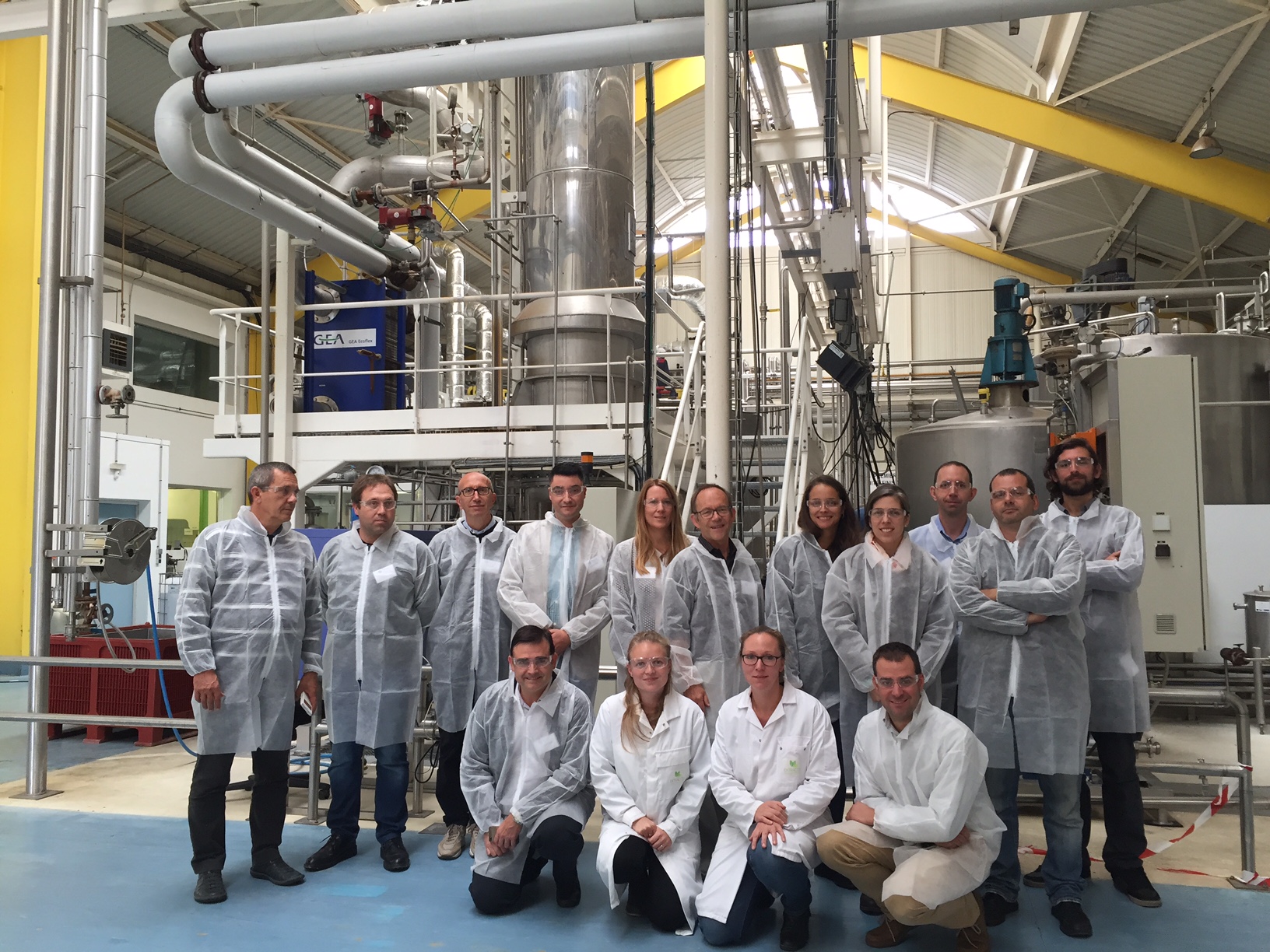 The Saltgae' consortium visiting Extractis
The
 SaltGae Project
EXTRACTIS is a partner in the European collaborative project SALTGAE
---
The treatment of saline and organically-laden wastewater is a challenge for many industries. Conventional treatments are often ineffective at high salinity levels because they will inhibit the bacterial processes usually used. In this context, EXTRACTIS is now a partner in the European SALTGAE project (within the framework of Horizon 2020) which aims to develop an innovative and effective solution for the treatment of saline effluents through the use of microalgae and halotolerant bacteria, known for their resistance to high salinities. Three sectors generating effluents with different salinities are particularly studied in this framework: the aquaculture sector (with effluents having a salinity of around 3 g/L), the whey industry (10 g/L) and the tanning industry (40 g/L). The objective of the SALTGAE project is to use microalgae to relieve effluents of the organic matter and nutrients necessary for their cultivation. They are then harvested and fractionated into compounds of interest for different sectors. In parallel, SALTGAE's work is also to valorise all the co-products generated throughout the process. The project involves three demonstration sites for the microalgae cultivation part, in Slovenia, Italy and Israel, and trials up to the pilot stage. Thanks to its experience in the fractionation of plants and the valorisation of co-products, EXTRACTIS is particularly involved at two levels: in the fractionation of freshly harvested microalgae and in the ultimate treatment of the effluents after harvesting.

Several processes are being tested to fractionate microalgae (mechanical with high-pressure homogenisation, physical with ultrasound, enzymatic or chemical). The fractions obtained after fractionation, i.e. a protein-enriched fraction, a lipid fraction and the residue, will be used by other partners for applications in coatings, resins, animal feed, etc. As regards the demineralisation of residual effluents after harvesting the microalgae, EXTRACTIS is more specifically in charge of implementing electrodialysis, while another partner is testing reverse osmosis. The SALTGAE project brings together 19 partners from 9 different countries (Spain, Italy, Slovenia, Israel, Ireland, Portugal, France, Belgium and Sweden) and is coordinated by a Spanish company. This 36-month project started in June 2016 with a total budget of €9.73 million. This project has received funding from the European Union's Horizon 2020 research and innovation programme under grant agreement number 689785. Your contact: Camille VIOT, R&D Project Manager, E-mail : viot@extractis.com For further informations on this  project : http://saltgae.eu/
The NEXT Project
Since 2019, EXTRACTIS has initiated a NEXT (NeoEXTractions) research programme, some of whose research axes are in collaboration with the URD-ABI AgroParisTech Chair, ASTREDHOR and CASPEO.
The different axes developed during these 3 years are the following:
           ■  Production of secondary metabolites via aeroponics
           ■  Implementation of new extraction and purification                           conditions (use of membrane contactors, use of new                       solvents, process intensification)
            ■  Valorisation of co-products
            ■ Evaluation of different centrifugal separation                                       technologies
          ■ Integration of the USIM PAC tool from Caspéo
Thesis contract financed by Extractis in the framework of the NEXT project
Development of a process for the extraction and purification of sinapic acid from two agro-industrial co-products
PhD student :Valentin REUNGOAT
Co-supervision: Irina IOANNO & Hélène DUCATEL
As a result of this research programme, two scientific publications have been published.
EXTRACTIS
33 avenue Paul Claudel
80480 Dury - France
Tel. : (+33) 03 22 33 75 00
Fax : (+33) 03 22 33 75 01
2 tools to inform you:


Our newsletter

: every 2 months, Extractis publishes a newsletter to inform you about news specific to Extractis, its members and its network (events, offers, news, etc.)


Our Extracts watch letter

: every month, Extractis publishes a technology watch letter that lists sector news, news in extraction technologies and market information for certain extracted products