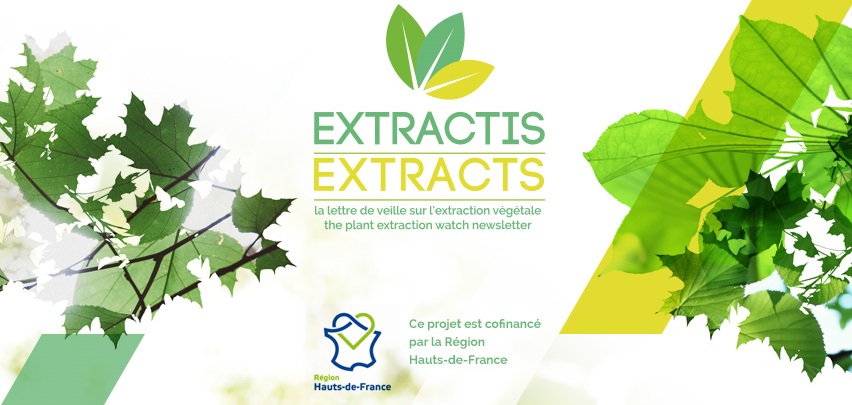 Chers lecteurs,

Notre service est heureux de vous proposer le numéro 33 d'EXTRACTS. Vous y retrouverez les dernières actualités du fractionnement de la biomasse végétale réparties dans les trois rubriques désormais habituelles : ACTUALITES ET ACTEURS, TECHNOLOGIES D'EXTRACTION & DE PURIFICATION, MARCHES. Une nouvelle fois cette actualité est riche et étoffée.

Je vous souhaite une agréable lecture.

Olivier Dupuis, Directeur technique d'Extractis

—————————————————

Dear readers,

Our department is pleased to offer you issue 33 of EXTRACTS. You will find the latest news on plant biomass fractionation divided into the three now usual sections: NEWS AND ACTORS, EXTRACTION & PURIFICATION TECHNOLOGIES, MARKETS. Once again, these news are rich and extensive.

I wish you a pleasant reading.

Olivier Dupuis, Technical Director of Extractis
La Lettre « EXTRACTS – la lettre de veille sur l'extraction du végétal » est une production d''Extractis diffusée par courriel à nos adhérents et à certains de nos contacts intéressés par ce secteur de la bioéconomie. Vous pouvez vous inscrire, vous désinscrire ou faire part de commentaires en envoyant un mail à l'adresse suivante : extracts@extractis.com. Par ailleurs les dispositions légales, concernant la publication de cette lettre et l'utilisation de vos données personnelles sont disponibles sur la page suivante : cliquez ici (page hébergée sur notre site . https://extractis.com).
Pour ce qui concerne les données collectées à l'ouverture de la Lettre EXTRACTS, merci de consulter la Politique de confidentialité de Mytwip de la société Coexel en cliquant ici.
Legal provisions concerning the publishing of the EXTRACTS newsletter and the use of your personal data are available online : click here (page hosted on our https://extractis.com website). To unsuscribe, please send an email to extracts@extractis.com.
Cette lettre est cofinancée par la Région Hauts-de-France (convention N° 21001983) et a été cofinancée par l'Union européenne avec le Fonds européen de développement régional (FEDER)