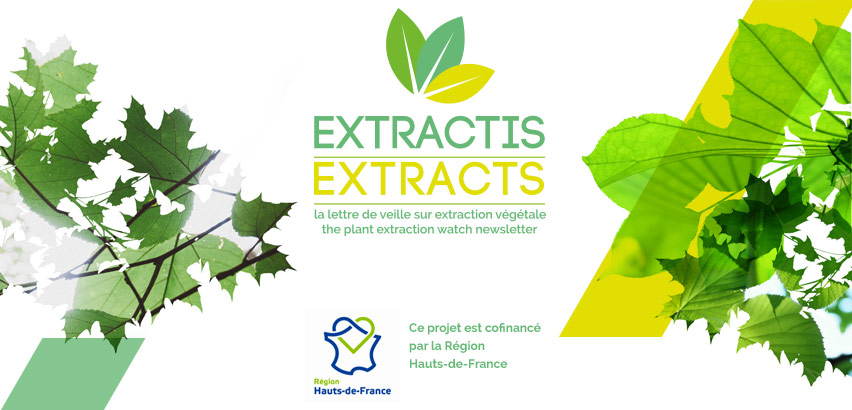 Bonjour à tous

En cette fin d'année, nous vous proposons de naviguer dans notre dernière lettre de veille Extracts en 2021. Vous y trouverez une large sélection d'actualités et d'articles autour de l'extraction du végétal avec notamment plusieurs articles et revues au sujet des solvants alternatifs (solvants eutectiques, liquides ioniques, solvants biosourcés …). Vous pourrez ainsi étudier leurs synthèses, leurs propriétés et certaines applications.

Toute l'équipe d'Extractis vous souhaite de très belles fêtes de fin d'année !!

Dr Hélène DUCATEL, Directrice innovation d'Extractis

—————————————————————————————————————————————————————————————-

Hello everyone

At the end of the year, we invite you to browse our last Extracts newsletter in 2021. You will find a large selection of news and articles on plant extraction, including several articles and reviews on the subject alternative solvents (eutectic solvents, ionic liquids, bio-based solvents, etc.). You will be able to study their synthesis, their properties and some applications.

The entire Extractis team sends you our Greetings of the Season !!

Dr Hélène DUCATEL, Extractis Innovation Director
La Lettre « EXTRACTS – la lettre de veille sur l'extraction du végétal » est une production d''Extractis diffusée par courriel à nos adhérents et à certains de nos contacts intéressés par ce secteur de la bioéconomie. Vous pouvez vous inscrire, vous désinscrire ou faire part de commentaires en envoyant un mail à l'adresse suivante : extracts@extractis.com. Par ailleurs les dispositions légales, concernant la publication de cette lettre et l'utilisation de vos données personnelles sont disponibles sur la page suivante : cliquez ici (page hébergée sur notre site . https://extractis.com).
Pour ce qui concerne les données collectées à l'ouverture de la Lettre EXTRACTS, merci de consulter la Politique de confidentialité de Mytwip de la société Coexel en cliquant ici.
Legal provisions concerning the publishing of the EXTRACTS newsletter and the use of your personal data are available online : click here (page hosted on our https://extractis.com website). To unsuscribe, please send an email to extracts@extractis.com.
Cette lettre est cofinancée par la Région Hauts-de-France (Convention N° 21001983)

Extractis collabore avec Coexel pour la collecte et la mise en forme des données