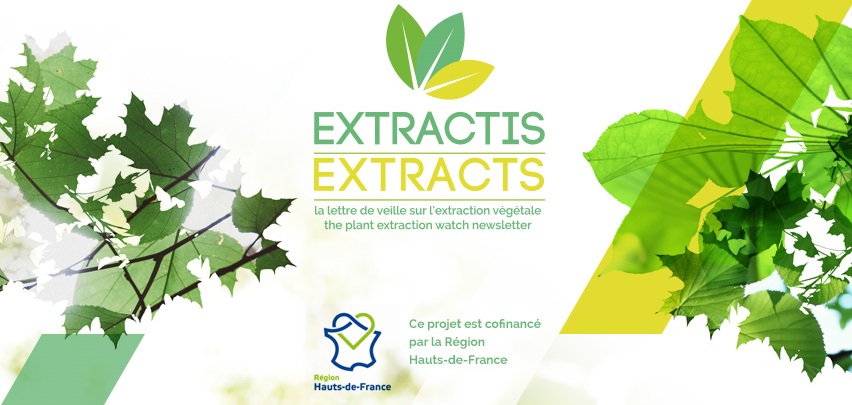 Chers lecteurs

Nous vous souhaitons une bonne lecture de la lettre de juillet d'Extracts, et pour beaucoup, de belles vacances à venir. Merci de noter qu'Extractis sera en grande partie fermé pour les opérations de maintenance annuelle du site du 31 juillet au 15 août.

A bientôt,

Philippe DAVID, Chef de projet technico-économique et Responsable de la veille

———————————————————————————————————-

Dear readers

We hope you will enjoy reading this July issue of Extracts, and that many of you have a wonderful vacation ahead. Please note that Extractis will be largely closed for annual site maintenance operations from July 31 to August 15.

We hope to see you soon,

Philippe DAVID, Techno-economic project manager and Technological watch manager
La Lettre « EXTRACTS – la lettre de veille sur l'extraction du végétal » est une production d''Extractis diffusée par courriel à nos adhérents et à certains de nos contacts intéressés par ce secteur de la bioéconomie. Vous pouvez vous inscrire, vous désinscrire ou faire part de commentaires en envoyant un mail à l'adresse suivante : extracts@extractis.com. Par ailleurs les dispositions légales, concernant la publication de cette lettre et l'utilisation de vos données personnelles sont disponibles sur la page suivante : cliquez ici (page hébergée sur notre site . https://extractis.com).
Pour ce qui concerne les données collectées à l'ouverture de la Lettre EXTRACTS, merci de consulter la Politique de confidentialité de Mytwip de la société Coexel en cliquant ici.
Legal provisions concerning the publishing of the EXTRACTS newsletter and the use of your personal data are available online : click here (page hosted on our https://extractis.com website). To unsuscribe, please send an email to extracts@extractis.com.
Cette lettre est cofinancée par la Région Hauts-de-France (convention N° 21001983) et a été cofinancée par l'Union européenne avec le Fonds européen de développement régional (FEDER)