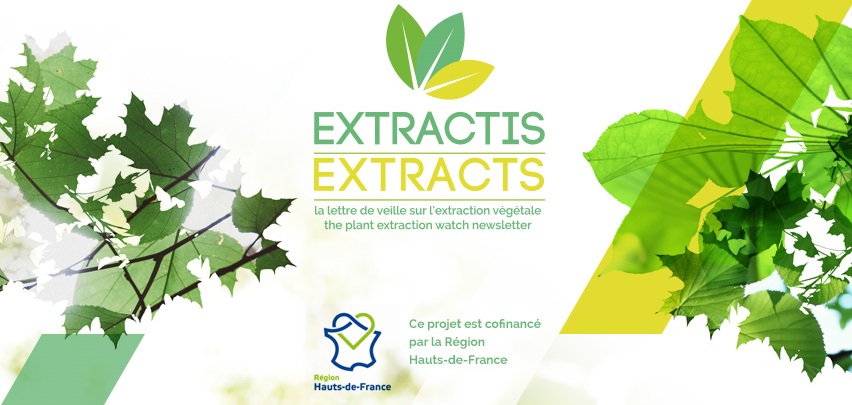 Bonjour à tous,

Retrouvez les dernières actualités autour des procédés du fractionnement de la biomasse végétale dans cette nouvelle lettre de veille EXTRACTS. Et n'hésitez pas  nous rendre visite sur le stand D1 dans le Village Ingrédients du salon Pharmatech & Cosmetech, à Chartres du 31 mai au 2 juin (plus d'informations sur le salon dans ce lien ici). Bonne lecture

Dr Hélène DUCATEL, Directrice innovation d'Extractis

———————————————————–

Hello everyone,

Please find the latest news about plant biomass fractionation processes in this new EXTRACTS watch letter. And don't hesitate to visit us on booth D1 in the Ingredients Village of the Pharmatech & Cosmetech exhibition, in Chartres from May 31 to June 2 (more information on the fair here). Good reading

Dr Hélène DUCATEL, Extractis innovation Director
La Lettre « EXTRACTS – la lettre de veille sur l'extraction du végétal » est une production d''Extractis diffusée par courriel à nos adhérents et à certains de nos contacts intéressés par ce secteur de la bioéconomie. Vous pouvez vous inscrire, vous désinscrire ou faire part de commentaires en envoyant un mail à l'adresse suivante : extracts@extractis.com. Par ailleurs les dispositions légales, concernant la publication de cette lettre et l'utilisation de vos données personnelles sont disponibles sur la page suivante : cliquez ici (page hébergée sur notre site . https://extractis.com).
Pour ce qui concerne les données collectées à l'ouverture de la Lettre EXTRACTS, merci de consulter la Politique de confidentialité de Mytwip de la société Coexel en cliquant ici.
Legal provisions concerning the publishing of the EXTRACTS newsletter and the use of your personal data are available online : click here (page hosted on our https://extractis.com website). To unsuscribe, please send an email to extracts@extractis.com.
Cette lettre est cofinancée par la Région Hauts-de-France (convention N° 21001983) et a été cofinancée par l'Union européenne avec le Fonds européen de développement régional (FEDER)