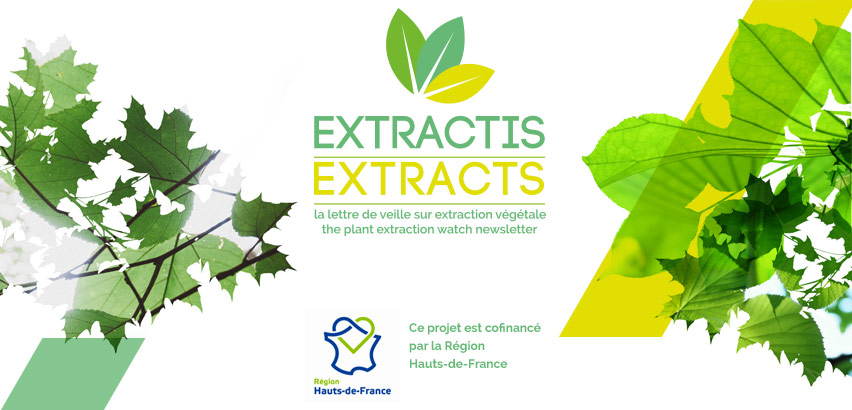 Lectrices, lecteurs,

Voici le numéro d'octobre 2021 de notre lettre de veille EXTRACTS. Une fois encore, la sélection a été complexe! Vous pourrez voir, au gré des différentes rubriques et articles qu'elles contiennent, que l'imagination des acteurs de l'extraction du végétal déborde plus que jamais. Que ce soit pour de l'amélioration de procédés existants, de la mise en œuvre de procédés innovants, ou encore de la combinaison fructueuse de différentes technologies, le génie du procédé végétal n'a de cesse que de se renouveler. Et du point de vue des matières et extraits, si les algues (micro et macro) ainsi que les protéines de tout horizon, se taillent la part belle une fois de plus, la diversité des ressources évoquées dans EXTRACTS confirme l'intérêt toujours grandissant de l'industrie et de la recherche pour la biomasse végétale. Vous pourrez par exemple faire la connaissance d'une plante prometteuse à la toute fin de cette lettre !

Nous vous souhaitons une bonne lecture.

Dr Pierre Ferchaud, Chef de projets R&D et Responsable du micro-pilote

__________________________________________________________________________________________________________________________________

Readers,

Here is the October 2021 issue of our EXTRACTS newsletter. Once again, the selection was complex! You will see, through the various sections and articles they contain, that the imagination of those involved in plant extraction is overflowing more than ever. Whether for the improvement of existing processes, the implementation of innovative processes, or the successful combination of different technologies, the genius of the plant process is constantly renewing itself. And from the point of view of materials and extracts, if algae (micro and macro) as well as proteins from all horizons, take pride of place once again, the diversity of resources mentioned in EXTRACTS confirms the ever-growing interest of industry and research for plant biomass. For example, you can meet a promising plant at the very end of this letter!

We hope you enjoy reading it.

Dr Pierre Ferchaud, R&D projects manager and Head of the micro-pilot workshop
La Lettre « EXTRACTS – la lettre de veille sur l'extraction du végétal » est une production d''Extractis diffusée par courriel à nos adhérents et à certains de nos contacts intéressés par ce secteur de la bioéconomie. Vous pouvez vous inscrire, vous désinscrire ou faire part de commentaires en envoyant un mail à l'adresse suivante : extracts@extractis.com. Par ailleurs les dispositions légales, concernant la publication de cette lettre et l'utilisation de vos données personnelles sont disponibles sur la page suivante : cliquez ici (page hébergée sur notre site . https://extractis.com).
Pour ce qui concerne les données collectées à l'ouverture de la Lettre EXTRACTS, merci de consulter la Politique de confidentialité de Mytwip de la société Coexel en cliquant ici.
Legal provisions concerning the publishing of the EXTRACTS newsletter and the use of your personal data are available online : click here (page hosted on our https://extractis.com website). To unsuscribe, please send an email to extracts@extractis.com.
Cette lettre est cofinancée par la Région Hauts-de-France (Convention N° 21001983)

Extractis collabore avec Coexel pour la collecte et la mise en forme des données