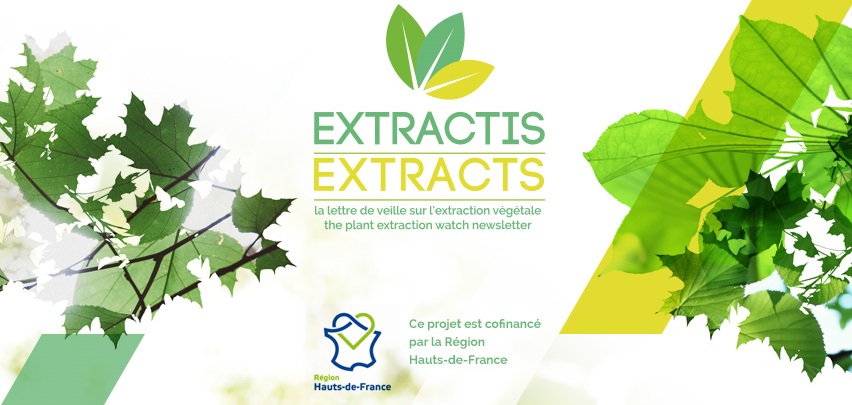 Chers lectrices et lecteurs,

Notre service de veille vous propose sa sélection du mois de février 2022 pour son 32ème numéro. L'actualité dans le domaine des extraits végétaux est toujours aussi florissante, avec une recherche constante de voies d'obtention toujours plus respectueuses de l'environnement et de l'Homme. Comme vous pourrez le voir tout au long de notre lettre, ces améliorations passent soit par le choix de solvants biosourcés ou non toxiques en remplacement des solvants pétrosourcés, soit par le choix de technologies particulières.

Si vous souhaitez nous rencontrer, nous serons présents avec un stand sur 2 salons en mars : Le CFIA de Rennes du 8 au 10, et BioKET à Lille du 15 au 17. Et bien sûr tout au long de l'année sur notre site de Dury. Si vous souhaitez visiter nos ateliers, n'hésitez pas à nous contacter, nous nous ferons un plaisir de vous montrer les possibilités de notre plateau technologique !

Dr Pierre FERCHAUD, Chef de projets R&D et Responsable du micro-pilote

————————————————————————————————————————————————————————————-

Dear readers,

Our monitoring service offers you its 32nd issue selection for February 2022. News in the field of plant extracts is still flourishing, with a constant search for new ways to obtain them that are ever more respectful of the environment and of people. As you will be able to see throughout our letter, these improvements concerns either the choice of biosourced or non-toxic solvents to replace oil-derived solvents, or the use of specific technologies.

If you would like to meet us, we will be present with a boot in 2 trade fairs in March: CFIA in Rennes from 8 to 10, and BioKET in Lille from 15 to 17. And of course throughout the year on our site in Dury. If you wish to visit our workshops, do not hesitate to contact us, we will be happy to show you the opportunities of our technological platform!

Dr Pierre FERCHAUD, R&D Project Manager and Head of the micro-pilot plant
La Lettre « EXTRACTS – la lettre de veille sur l'extraction du végétal » est une production d''Extractis diffusée par courriel à nos adhérents et à certains de nos contacts intéressés par ce secteur de la bioéconomie. Vous pouvez vous inscrire, vous désinscrire ou faire part de commentaires en envoyant un mail à l'adresse suivante : extracts@extractis.com. Par ailleurs les dispositions légales, concernant la publication de cette lettre et l'utilisation de vos données personnelles sont disponibles sur la page suivante : cliquez ici (page hébergée sur notre site . https://extractis.com).
Pour ce qui concerne les données collectées à l'ouverture de la Lettre EXTRACTS, merci de consulter la Politique de confidentialité de Mytwip de la société Coexel en cliquant ici.
Legal provisions concerning the publishing of the EXTRACTS newsletter and the use of your personal data are available online : click here (page hosted on our https://extractis.com website). To unsuscribe, please send an email to extracts@extractis.com.
Cette lettre est cofinancée par la Région Hauts-de-France (convention N° 21001983) et a été cofinancée par l'Union européenne avec le Fonds européen de développement régional (FEDER)