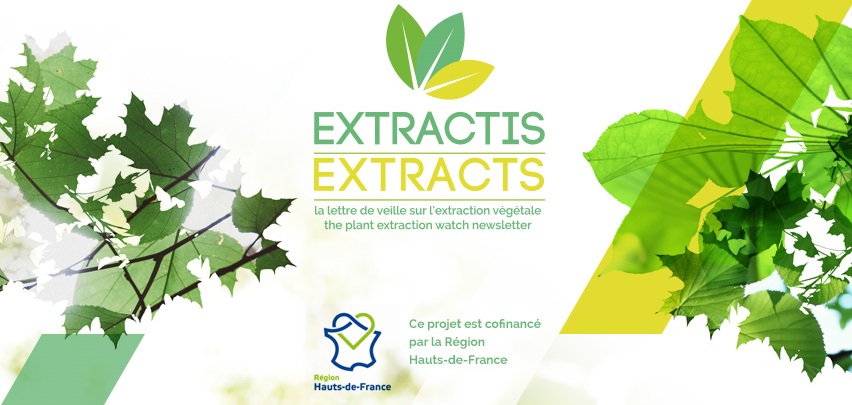 Dear readers

At the beginning of the year and on the occasion of issue 31 of EXTRACTS, I wanted to offer you all my personal and professional wishes for 2022.

As far as EXTRACTIS is concerned, and as we approach our fortieth anniversary, it is time for our site to have a facelift: over the period 2021-2023, and thanks to the cofunding of national and European recovery funds (France Relance – fonds d'accélération des investissements industriels dans les territoires & Programme Opérationnel FEDER-FSE Hauts de France), we will invest in it more than 2 million euros to continue to better serve our customers and partners.

I wish you a pleasant reading.

Philippe de BRAECKELAER, Managing Director of EXTRACTIS
La Lettre « EXTRACTS – la lettre de veille sur l'extraction du végétal » est une production d''Extractis diffusée par courriel à nos adhérents et à certains de nos contacts intéressés par ce secteur de la bioéconomie. Vous pouvez vous inscrire, vous désinscrire ou faire part de commentaires en envoyant un mail à l'adresse suivante : extracts@extractis.com. Par ailleurs les dispositions légales, concernant la publication de cette lettre et l'utilisation de vos données personnelles sont disponibles sur la page suivante : cliquez ici (page hébergée sur notre site . https://extractis.com).
Pour ce qui concerne les données collectées à l'ouverture de la Lettre EXTRACTS, merci de consulter la Politique de confidentialité de Mytwip de la société Coexel en cliquant ici.
Legal provisions concerning the publishing of the EXTRACTS newsletter and the use of your personal data are available online : click here (page hosted on our https://extractis.com website). To unsuscribe, please send an email to extracts@extractis.com.
Cette lettre est cofinancée par la Région Hauts-de-France (convention N° 21001983) et a été cofinancée par l'Union européenne avec le Fonds européen de développement régional (FEDER)