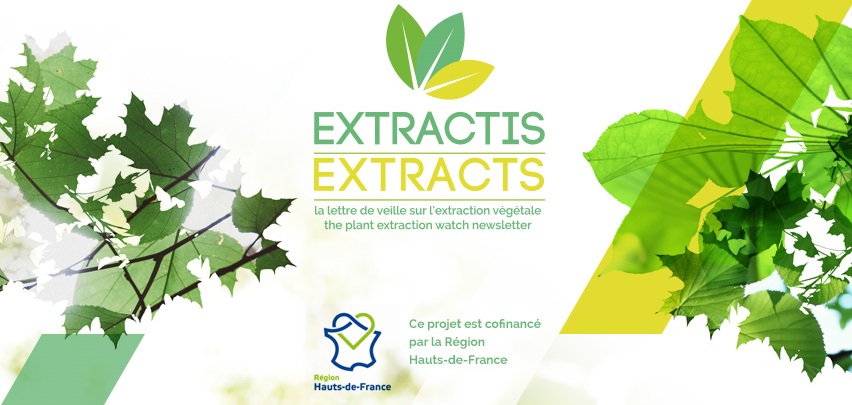 Chers lecteurs,

Vous pourrez découvrir la dernière sélection d'articles des mois d'août et de septembre. Outre les tendances des marchés, vous y trouverez la plus récente information sur les derniers développements en termes d'extraction et de fractionnement. Cette fin d'année est également pour nous studieuse, avec la concrétisation de nos travaux d'extension du site et de remise à plat de toutes les utilités de nos halles pilotes…pour plus de détails, n'hésitez pas à vous rendre sur www.extractis.com .

En vous souhaitant une bonne lecture,

Bien Cordialement,

Philippe De Braeckelaer, Directeur Général d'EXTRACTIS

—————————————————————————————————————————————————————————————

Dear readers,

You will be able to discover the latest selection of articles for August and September. In addition to market trends, you will find the most recent information on the latest developments in terms of extraction and fractionation. This end of the year is also a studious one for us, with the realization of our site extension work and the overhaul of all the utilities of our pilot halls…for more details, do not hesitate to visit www.extractis.com/en .

Wishing you a pleasant reading,

Best regards,

Philippe De Braeckelaer, EXTRACTIS CEO
La Lettre « EXTRACTS – la lettre de veille sur l'extraction du végétal » est une production d''Extractis diffusée par courriel à nos adhérents et à certains de nos contacts intéressés par ce secteur de la bioéconomie. Vous pouvez vous inscrire, vous désinscrire ou faire part de commentaires en envoyant un mail à l'adresse suivante : extracts@extractis.com. Par ailleurs les dispositions légales, concernant la publication de cette lettre et l'utilisation de vos données personnelles sont disponibles sur la page suivante : cliquez ici (page hébergée sur notre site . https://extractis.com).
Pour ce qui concerne les données collectées à l'ouverture de la Lettre EXTRACTS, merci de consulter la Politique de confidentialité de Mytwip de la société Coexel en cliquant ici.
Legal provisions concerning the publishing of the EXTRACTS newsletter and the use of your personal data are available online : click here (page hosted on our https://extractis.com website). To unsuscribe, please send an email to extracts@extractis.com.
Cette lettre est cofinancée par la Région Hauts-de-France (convention N° 21001983) et a été cofinancée par l'Union européenne avec le Fonds européen de développement régional (FEDER)