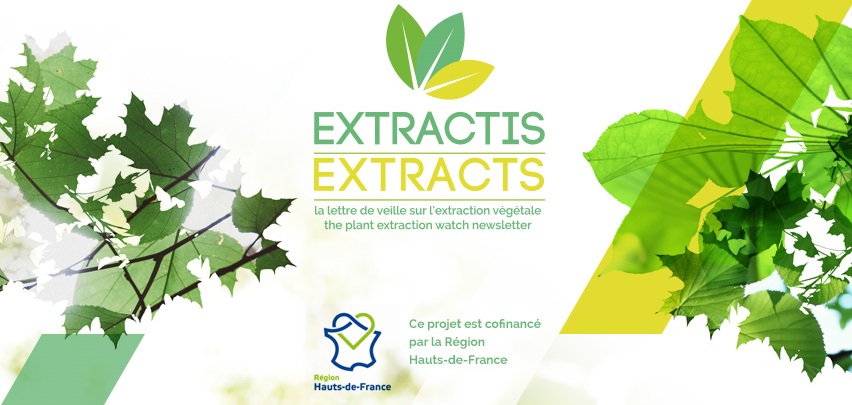 Bonjour à tous,

Espérant que cet été vous a été profitable, après une petite pause estivale, nous vous proposons un nouveau numéro de la lettre Extracts. Vous pouvez d'ores et déjà noter dans vos agendas que notre prochaine journée technique aura lieu le mardi 14 novembre de 9h à 17h à Dury (80480). Elle portera sur les technologies de purification. Au programme : des interventions sur l'électrodialyse membranaire, le CO2 supercritique, la Chromatographie de Partage Centrifuge, le charbon actif … et une visite des laboratoires et halls pilotes d'Extractis. Le programme définitif ainsi que les modalités d'inscription seront consultables sur notre site web d'ici mi-septembre, en attendant vous pouvez m'envoyer un mail à contact@extractis.com afin que je vous envoie directement le programme lors de son édition. Je vous attends nombreux à cette journée et je vous souhaite une bonne lecture.

Bien à vous,

Julienne Allemon, Business Developer

———————————————————————–

Hello everyone,

After a short summery break, we hope you've all enjoyed the summer, and we're pleased to bring you a new issue of the Extracts letter. You can already note in your diaries that our next technical day (in French) will take place on Tuesday November 14 from 9 a.m. to 5 p.m. in Dury (Somme), Northern France. It will focus on purification technologies. On the program: presentations on membrane electrodialysis, supercritical CO2, Centrifugal Partition Chromatography, activated carbon… and a visit to the Extractis laboratories and pilot halls. The definitive program and registration details will be available on our website by mid-September. In the meantime, you can send me an e-mail at contact@extractis.com  so that I can send you the program directly when it is published. I look forward to seeing many of you there, and wish you good reading.

Best regards,

Julienne Allemon, Business Developer
La Lettre « EXTRACTS – la lettre de veille sur l'extraction du végétal » est une production d''Extractis diffusée par courriel à nos adhérents et à certains de nos contacts intéressés par ce secteur de la bioéconomie. Vous pouvez vous inscrire, vous désinscrire ou faire part de commentaires en envoyant un mail à l'adresse suivante : extracts@extractis.com. Par ailleurs les dispositions légales, concernant la publication de cette lettre et l'utilisation de vos données personnelles sont disponibles sur la page suivante : cliquez ici (page hébergée sur notre site . https://extractis.com).
Pour ce qui concerne les données collectées à l'ouverture de la Lettre EXTRACTS, merci de consulter la Politique de confidentialité de Mytwip de la société Coexel en cliquant ici.
Legal provisions concerning the publishing of the EXTRACTS newsletter and the use of your personal data are available online : click here (page hosted on our https://extractis.com website). To unsuscribe, please send an email to extracts@extractis.com.
Cette lettre est cofinancée par la Région Hauts-de-France (convention N° 21001983) et a été cofinancée par l'Union européenne avec le Fonds européen de développement régional (FEDER)