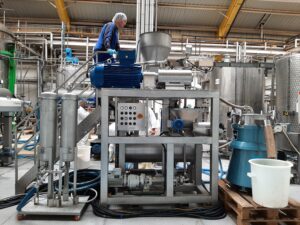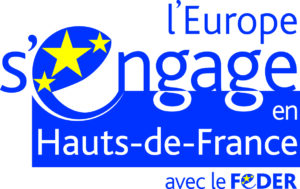 Extractis has received since one week and for another 22 weeks minimum the last innovation of Andritz in solid/liquid extraction: the Turbex. This rental is a technology resourcing project financed by the Hauts-de-France region with european funding.
The Turbex is a new tool to improve the extraction stage. It is a tool that works continuously, with flows of about 10 to 50 kg.h-1 in dry matter. It is therefore a pilot-scale tool, and not a laboratory prototype that cannot be transposed or whose industrialization is uncertain.
Its interest is based on two specificities:
The generation of cavitation bubbles thanks to the rotation of 3 discs of adapted geometry in the reactor. This rotation is between 500 and 2000 revolutions per minute, to modulate the energy transmitted to the medium.
The real innovation of this system is the counter-current circulation.
Unlike conventional cavitation pumps, the Turbex allows the solid matter to circulate in one axis, and the solvent in the opposite axis, in order to have the best extraction gradient at all times and to optimize yields. The flow rate of each element can be cut, which makes it possible to vary the ratios between solid and liquid quite easily. By design, the Turbex is ATEX, and therefore compatible with the use of ethanol.
This technology has been patented by Andritz.
Extractis has a first generation Turbex on its site until October. We are currently in the learning phase so that we can conduct trials for our customers in an optimal manner. It will soon be open for service, for those who wish to investigate this new technology.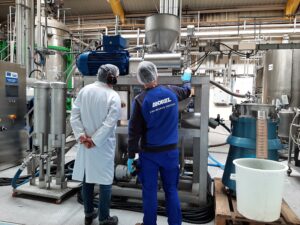 If you would like more information, if you have any questions or ideas, please do not hesitate to contact us.