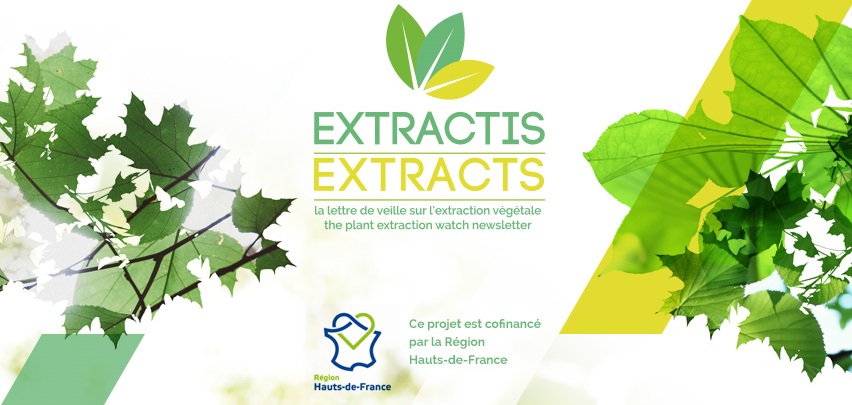 Bonjour à tous,

Avant de profiter des congés d'été, nous vous proposons de naviguer dans notre dernière lettre de veille Extracts. Vous y trouverez une large sélection d'actualités et d'articles autour de l'extraction du végétal. Notez également que nous avons édité sur notre site Internet une édition spéciale regroupant une sélection d'articles publiés dans les lettres Extracts entre novembre dernier et avril 2022.

A vos agendas ! Extractis organise une nouvelle journée technique le 17 novembre 2022 à Dury. Le sujet portera sur l'amélioration du fractionnement des matrices végétales par l'utilisation de différentes technologies de prétraitement (CEP, traitement enzymatique, ultrasons , HPH). Renseignements et inscriptions: contactez-nous à contact@extractis.com .

Bonne lecture

Dr Hélène DUCATEL, Directrice innovation d'Extractis

———————————————————————-

Hello everyone,

Before enjoying your summer holidays, we suggest you browse our latest Extracts watch letter where you will find a wide selection of news and articles about plant extraction. Please note our special edition that we have published on our website bringing together a selection of articles published in the Extracts letters between last November and April 2022.

Mark your calendars!

Extractis is organizing a new technical day on November 17, 2022 in Dury (France).

The subject will focus on improving the fractionation of plant matrixes through the use of different pretreatment technologies (PEF, enzymatic treatment, ultrasound, HHP).

 For more 

information and registration, please mail us to  contact@extractis.com .

Dr Hélène DUCATEL, Extractis innovation Director
La Lettre « EXTRACTS – la lettre de veille sur l'extraction du végétal » est une production d''Extractis diffusée par courriel à nos adhérents et à certains de nos contacts intéressés par ce secteur de la bioéconomie. Vous pouvez vous inscrire, vous désinscrire ou faire part de commentaires en envoyant un mail à l'adresse suivante : extracts@extractis.com. Par ailleurs les dispositions légales, concernant la publication de cette lettre et l'utilisation de vos données personnelles sont disponibles sur la page suivante : cliquez ici (page hébergée sur notre site . https://extractis.com).
Pour ce qui concerne les données collectées à l'ouverture de la Lettre EXTRACTS, merci de consulter la Politique de confidentialité de Mytwip de la société Coexel en cliquant ici.
Legal provisions concerning the publishing of the EXTRACTS newsletter and the use of your personal data are available online : click here (page hosted on our https://extractis.com website). To unsuscribe, please send an email to extracts@extractis.com.
Cette lettre est cofinancée par la Région Hauts-de-France (convention N° 21001983) et a été cofinancée par l'Union européenne avec le Fonds européen de développement régional (FEDER)