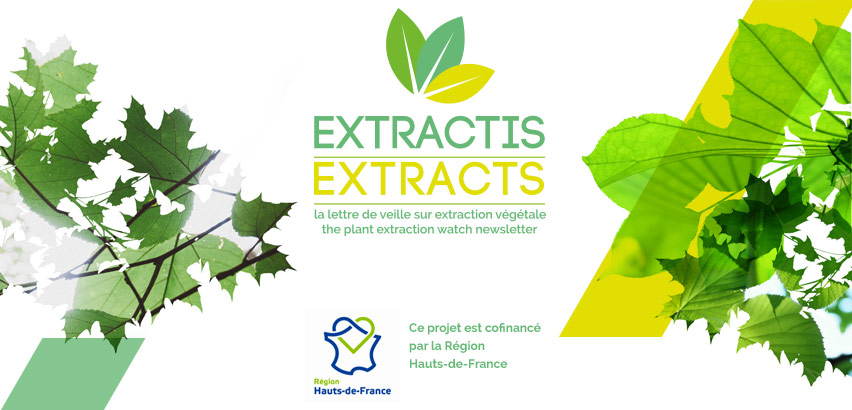 Bonjour à tous

En ce début septembre, nous vous proposons un nouveau numéro de notre lettre de veille EXTRACTS qui vous présente une sélection d'articles scientifiques collectés par notre service de veille autour des technologies d'extraction du végétal cet été.

Nous souhaitions également vous rappeler la date du 30 septembre prochain pour la prochaine Journée Technique, organisée sur le site d'Extractis, sur les procédés membranaires. Il est encore possible de vous inscrire. Le programme est détaillé ici: Programme Journée Technique Membranes .Vous pouvez contactez par courriel à ce sujet contact@extractis.com.

Bonne lecture

Hélène DUCATEL, Directrice de l'Innovation chez Extractis

————————————————————————————————————————————————————————————–

Hello everyone

In early September, we are offering you a new issue of our EXTRACTS newsletter which displays a selection of scientific articles collected by our monitoring service around plant extraction technologies, collected this summer.

For Francophones, we also wanted to remind you of the date of September 30, 2021 for the next Technical Day organized, on the Extractis site, on membrane processes. It is still possible to register. The program is detailed here: Programme Journée Technique Membranes. You can contact by email on this subject contact@extractis.com.

Good reading

Hélène DUCATEL, Extractis Innovation Director
La Lettre « EXTRACTS – la lettre de veille sur l'extraction du végétal » est une production d''Extractis diffusée par courriel à nos adhérents et à certains de nos contacts intéressés par ce secteur de la bioéconomie. Vous pouvez vous inscrire, vous désinscrire ou faire part de commentaires en envoyant un mail à l'adresse suivante : extracts@extractis.com. Par ailleurs les dispositions légales, concernant la publication de cette lettre et l'utilisation de vos données personnelles sont disponibles sur la page suivante : cliquez ici (page hébergée sur notre site . https://extractis.com).
Pour ce qui concerne les données collectées à l'ouverture de la Lettre EXTRACTS, merci de consulter la Politique de confidentialité de Mytwip de la société Coexel en cliquant ici.
Legal provisions concerning the publishing of the EXTRACTS newsletter and the use of your personal data are available online : click here (page hosted on our https://extractis.com website). To unsuscribe, please send an email to extracts@extractis.com.
Cette lettre est cofinancée par la Région Hauts-de-France (Convention N° 21001983)

Extractis collabore avec Coexel pour la collecte et la mise en forme des données