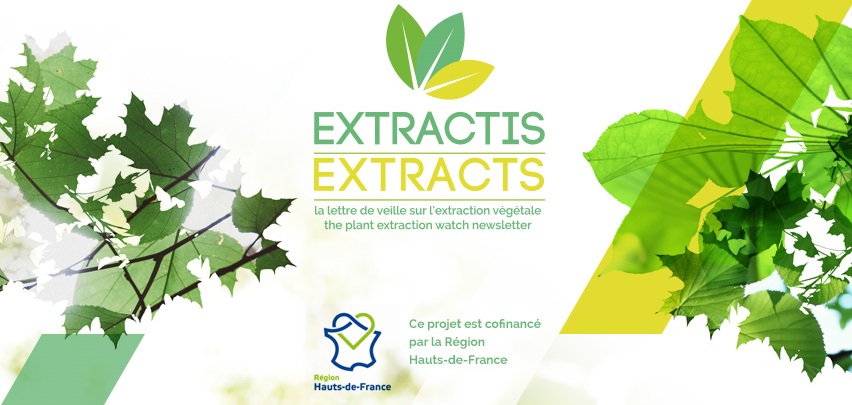 Chers lecteurs d'Extracts,

Avant de vous lancer assidûment dans la lecture de notre lettre de veille du mois de juin, je vous propose de noter dans vos agendas que vous avez rendez-vous avec Extractis le 29 juin à 15h. En effet à cette date, vous aurez la possibilité d'assister à un webinaire présentant la dernière innovation en extraction solide/liquide: le TURBEX de chez ANDRITZ (vidéo en anglais). Cet équipement micro-pilote est à l'essai pendant plusieurs mois chez Extractis. Je vous invite à lire cet article (en français) présentant cette nouvelle technologie, puis à vous inscrire via ce lien pour être sûr de pouvoir participer à ce webinaire gratuit d'environ 30min., en anglais, sur ce sujet.

Bonne découverte

Julienne ALLEMON, Business developer

——————————————-

Dear Extracts readers,

Before you assiduously embark on reading our June newsletter, please note in your diaries an appointment with Extractis on June 29 at 3 p.m.. On this date, you'll have the opportunity to attend a webinar presenting the latest innovation in solid/liquid extraction: the TURBEX from ANDRITZ (video in English). This micro-pilot equipment is on trial for several months at Extractis. I invite you to read this article (in English) presenting this new technology, then to register via this link to be sure of being able to take part in this free 30-minute webinar on the subject (in English).

Enjoy the discovery

Julienne ALLEMON, Business developer
La Lettre « EXTRACTS – la lettre de veille sur l'extraction du végétal » est une production d''Extractis diffusée par courriel à nos adhérents et à certains de nos contacts intéressés par ce secteur de la bioéconomie. Vous pouvez vous inscrire, vous désinscrire ou faire part de commentaires en envoyant un mail à l'adresse suivante : extracts@extractis.com. Par ailleurs les dispositions légales, concernant la publication de cette lettre et l'utilisation de vos données personnelles sont disponibles sur la page suivante : cliquez ici (page hébergée sur notre site . https://extractis.com).
Pour ce qui concerne les données collectées à l'ouverture de la Lettre EXTRACTS, merci de consulter la Politique de confidentialité de Mytwip de la société Coexel en cliquant ici.
Legal provisions concerning the publishing of the EXTRACTS newsletter and the use of your personal data are available online : click here (page hosted on our https://extractis.com website). To unsuscribe, please send an email to extracts@extractis.com.
Cette lettre est cofinancée par la Région Hauts-de-France (convention N° 21001983) et a été cofinancée par l'Union européenne avec le Fonds européen de développement régional (FEDER)